I used to think that it would get easier.  At one time I had come to believe that as you grow along the journey the struggle would diminish.  Now I know that is not true.
The lessons I've learned along the way may make me better equipped to walk this path, but the path itself doesn't get smoother.
The thought of saying goodbye to Hungary is no less difficult a thought than when I was selling my house and getting ready to leave Tampa for Europe.
But I never cease to be amazed at how specifically God will speak.
Yesterday I was singing in church while at the same time carrying on a conversation with the Savior.  It went something like: "I don't know if I can do this.  I don't really want to say goodbye.  The future holds so much promise, but it also feels so ambivalent.  This place has become home. Lord, I want to trust, but this is hard…"
The next song started up and for a moment all I could do is smile (while wiping tears from the corners of my eyes).  I won't translate the song, but it's about how God has planned good for me, how He is a loving God, how his grace lasts forever and it brings to mind the promise that "He who did not spare his own Son, but gave him up for us all – how will he not also, along with him, graciously give us all things." (Rom 8:32)
I am thankful that God speaks to me personally;
that the Spirit knows just what I need to hear and when.
I am thankful that God has planned good for me.
He's planned good for you too!  Are you counting the ways?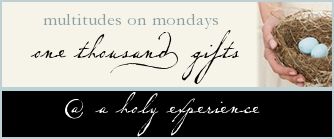 This week I am also thankful for:
421 – Lightening and thunder, wind and rain, all wild
423 – The sun coming out again, lingering cool breezes
426 – For the One who created me, redeemed me, called me by name and calls me his own.  For the One who says: Do not fear, I will be with you; you are precious and I love you.
427 – Birthday wishes: cards and calls, friends on the journey
430 – For sounds of beauty and sacred rhythms